Replacement Seat Covers for Trucks and SUVs
The Seat Shop provides you with the seat replacement covers and cushions you need for DIY automotive seat repair. Or, you can have a local shop handle the installation for you. Either way, you'll love how easily auto seat repair can make the interior of your ride look great again.
Best of all, our seat covers and Durofoam cushions are an exact match to the original equipment manufacturer (OEM) seats that came with your truck or SUV when it rolled off the assembly line – before the 100K miles you've packed on since. So there's no need to worry about whether our products will match. And no need to replace the whole interior – just the seats that are showing signs of wear.
If you want your new seat to feel as good as it looks, pick up one of our Durofoam seat cushions, too. They're made with the same OEM fit and attachment methods but with more density to last longer. Find your seat replacement cover and cushion and start enjoying your ride again!
Shop Seat Covers by Vehicle
Enter your year, make, and model, so we can recommend the right parts for you.
Cant find your vehicle? Contact Us
WHAT DO WE OFFER?
We offer seat covers that are compatible with a variety of makes and models. Learn more by choosing your make below to see all the models we match!
Not all OEM Replacement Seat Covers are the same.
There are various options for replacement seat covers depending on your specific needs and budget:

Slip-On Covers

One size fits all. This type of replacement seat cover is usually poor in quality and fit. This will not replace or solve anything. You may not see the problem, but your back will definitely feel it.

Junkyard Seats

This is an option if you are on a budget, but you are not always going to get the exact replacement seat cover you need. In many cases, what you find may be in worse condition than what you already have.

Cheap Knock-Off

If color-match, quality material, texture, AC/Heat options and a loose fit are not a problem for you, you'll find many places to choose from. Just remember, cheap options can become expensive very quickly.

Non-OEM Conversion Kit

Non-OEM conversion kits exist, but they are non-refundable and you'll have to remove all of your OEM quality leather and replace it with the kit pieces so it all matches.
The Seat Shop provides accurate OEM fit and finishes for many replacement seat cover products – even if they have been discontinued.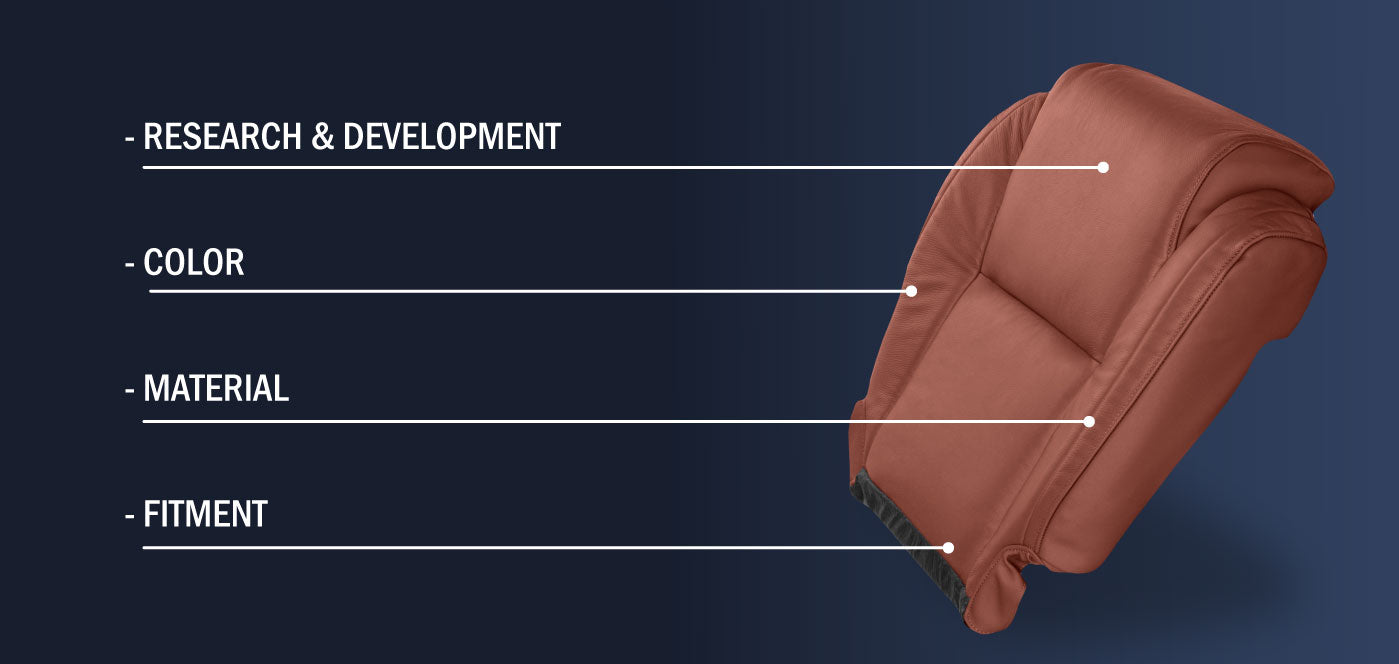 4 KEY COMPONENTS TO FACTORY MATCH
OEM SEAT COVER REPLACEMENT
At The Seat Shop, we have replacement seat covers for hundreds of trucks and SUVs from 1995 and up. Manufactured in our Plano, Texas factory, seat cover replacement begins with quality materials and precise craftsmanship.
Our products are made to match your original factory seat covers, which were manufactured according to OEM seat cover standards. This helps guarantee that the replacement seat covers will match your original interior.
BENEFITS OF OUR FACTORY REPLACEMENT SEAT COVERS
Premium Automotive Material: Our leather, cloth and vinyl materials are sourced from many of the same original automotive suppliers. This ensures you get an accurate match on the color and texture of your original seat cover. If a product is in high demand and the material is no longer in production, we will explore different tanneries to reproduce the matching OEM material.
OEM Fitment:  Each replacement seat cover is digitally measured and cut with machine precision, ensuring an exact look and fit every time. We also ensure that the correct anchoring methods are used so that OEM standards are kept. This includes matching clips that will hold your new seat cover to your OEM seat frame.
Foam Backing: We use 1/2" machine-sewn foam backing behind the leather seating surface and 1/4" flame-laminated foam backing on the vinyl side skirting. This creates reinforced structure and support for your seat cover that will last for years to come.
Automotive Grade Thread: It's all in the details. The thread color and appropriate gauge are needed to give you the original look as well as the additional security and longevity.
AC/Heat Compatibility: Our covers are made with the proper materials to ensure your replacement seat cover is compatible with the seat heating and cooling functions you currently enjoy in your vehicle.
Airbag Deployment Certification: Looks are important, but safety is key in factory seat cover replacement. Before we release any airbag-equipped product, it undergoes thorough testing at a qualified facility to ensure the airbag will deploy as an OEM seat cover should – down to the millisecond.
If your problems go beyond the cosmetic, we have replacement Durofoam Cushions to replace your current OEM seat cushion.
We can also help if you need Accessories to get the job done.
Frequently Asked Questions - Seat Covers
When you replace your factory seat covers with our products, you know that you are getting the best OEM-matched seat covers available today. Here are some frequently asked questions we receive regarding our seat covers.
What if I don't see my vehicle year/make/model listed?
If you don't see your vehicle listed, we most likely don't manufacture replacements for it. Please consider making a submission on our Product Suggestion Form. We take these submissions into account when deciding which products to release. Please note that we do not manufacture replacements for anything prior to 1994.
What's different about your covers than my original factory covers?
Virtually nothing! We offer a factory match guarantee with all our covers. In rare cases, we are not able to source particular materials, or we make improvements to the original design. We also don't replicate logos. In these cases, we provide notes on the product page. If you are not satisfied for any reason, you can certainly return the product for a refund.
How can I know for sure I am getting the correct color?
Please chat with us in the bottom right hand corner to run your VIN. Otherwise please include your VIN with your order and we will double check the color for you automatically!
Can I do a cloth to leather conversion?
In most cases, yes. Sometimes, the seat styles are different between cloth and leather, especially on older models. Please contact our seat experts to find out for sure. You can chat, email, or call us at 214-710-2565.
Find Your Replacement Seat Covers at The Seat Shop
With all the miles on your vehicle's seat, it deserves a little TLC. At The Seat Shop, we manufacture factory-matched replacement options for your OEM seat covers or foam cushions.
Manufactured right here in the US, seat covers from our facility in Plano, Texas, come with a two-year warranty. Do you prefer help installing your seat skins? Check out our install videos on OEM seat cover replacement. Or use our install locator for a list of shops that can install your factory seat covers for you.