Get a New Truck Feel and Replace Your Dodge Seat Cushions
If you're feeling the pain of bottomed-out Dodge seat cushions, meet Durofoam.
 Durofoam is denser, firmer and more durable than your worn out factory foam, making Dodge Durofoam seat cushions a superior option when considering a OEM Dodge seat cushion replacement.
Start Your Search Here
Enter your year, make, and model, so we can recommend the right parts for you.
Cant find your vehicle? Contact Us
Discover The Benefits of Durofoam For Dodge Seat Cushions

After thousands of miles on the road, it may be time for Dodge
seat cushion replacement. Get a new feel by replacing your worn-out Dodge seat cushions with Durofoam.

Dodge Durofoam Seat Cushion Replacement Features:

- Create fuller seats versus the flattened look of standard cushions

- Offer better support which can help ease lower back pain

- Have rienforced backing for increased durability

- Have higher density rating for superior lumbar support
Choose Durofoam for your Dodge Seat Cushion Today!
shop now
The Following Fits Dodge Seat Cushions for RAM Trucks & Durango Models
The Seat Shop manufactures OEM Dodge seat cushion replacement for a perfect for RAM trucks, including Dodge RAM models before 2009 and RAM trucks from 2009 on. Whether you have a Durango or RAM, we have the Dodge seat cushion replacements you need!  
Dodge Durango

Citadel 2011 - 2020

Limited 2014 - 2016

Crew 2011 - 2013

GT 2017 - 2020

SXT Plus 2019
Dodge Seat Cushion Replacement: Frequently Asked Questions
Here are some common questions and answers about Dodge seat cushion replacement with The Seat Shop's Dodge Durofoam seat cushions.
I don't see my Dodge model listed. Do you take custom orders?
We only manufacture Dodge seat cushions for RAM trucks for the
years listed. Unfortunately, we cannot take custom orders for other models or years.
Can I get Dodge seat foam cushions for my backseat?
All the Dodge seat cushion replacements we make are for the driver's bucket seat and select passenger seats. We do not make foam cushions for the backseat. 
My RAM truck has A/C seats. Are Dodge Durofoam seat cushions and OEM replacements compatible?
If the OEM Dodge vehicle came with A/C (ventilated and heated) seats for that particular year, our cushion replacements are compatible to your Dodge vehicle.
Resources for Installing Dodge Seat Cushions
You can learn more about installing Dodge seat cushions with our helpful resources. Whether you are DIY inclined or prefer to hire a trusted professional, we have you covered.
Installation Videos
If you're up for installing your Dodge seat cushions, you are not on your own. Check out our step-by-step installation videos to get the job done right.
Browse Installation Videos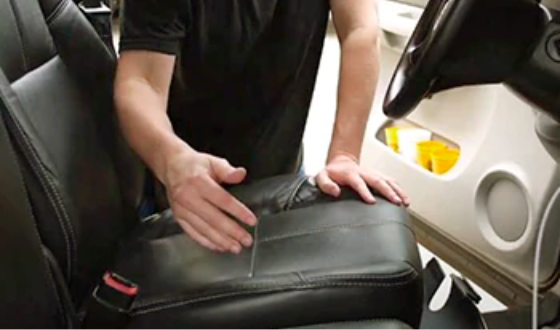 Installer Locator
Finding an upholstery professional familiar with The Seat Shop's Dodge seat cushion replacement products is easy. Just enter your location or zip code to locate a shop in your area to help with your install.
Find An Installer
Related Articles: Dodge Seat Cushion Replacements