Replace Chevy Truck Seat Covers
The Seat Shop offers replacement Chevy seat covers designed to match your original seating interior. Built with high-quality materials sourced from the original material suppliers, our OEM replacement seat covers for Chevy trucks, Express vans, and SUVs give you that original look and feel.
If your OEM Chevy seat covers need to be replaced, don't get tricked by cheap knock-offs that cut corners to downgrade your interior. Don't hide your torn, embarrassing seats with slip-on covers, you will still have the problem underneath.
The Seat Shop digitally measures and machine cuts all of our products to make sure your matched Chevy factory seat cover replacements will look and fit like the original.
Start Your Search Here
Enter your year, make, and model, so we can recommend the right parts for you.
Cant find your vehicle? Contact Us
Elevate Your Chevy's Interior with Premium Seat Covers from The Seat Shop
Welcome to The Seat Shop, your one-stop destination for enhancing the comfort, style, and durability of your Chevy's seats. Whether you own a rugged Silverado, a versatile Tahoe, or a spacious Suburban, we have the perfect seat covers to suit your needs. Here at theseatshop.com, we will explore the world of seat covers for Chevy vehicles, focusing on popular models like the Chevy Silverado, Tahoe, and Suburban. Discover why investing in high-quality Chevy seat covers is essential and how The Seat Shop can transform your driving experience.
Protect and Elevate: Chevy Silverado Seat Covers
Your Chevy Silverado is more than just a truck; it's a reliable companion for your toughest adventures. However, daily wear and tear can take a toll on your seats. That's where our Chevy Silverado seat covers come in. Crafted from top-notch materials, these seat covers offer unmatched durability. Whether you're hauling cargo or driving through challenging terrains, our seat covers keep your Silverado's interior looking pristine.
Tahoe Seat Covers: Best Replacement Options
The Chevy Tahoe is the epitome of family comfort and versatility. To maintain its elegance and keep your seats looking like new, explore our range of Chevy Tahoe seat covers. Our replacements not only provide superior durability but also elevate your Tahoe's interior aesthetics. Search by vehicle so you can find the perfect seat covers to match your Tahoe's style.
2017 Chevy Silverado Seat Covers: Tailored Perfection
If you own a 2017 Chevy Silverado, you understand the importance of maintaining its value and appearance. Our 2017 Chevy Silverado seat covers are meticulously designed to fit your specific model. These seat covers offer a perfect blend of tailored precision and uncompromising quality so you can restore your Silverado's seats.
Chevrolet Silverado Seat Covers: Durability Meets Style
The Chevrolet Silverado is known for its durability and strength. Our Chevrolet Silverado seat covers are crafted to match these qualities. They are designed to withstand the toughest challenges, making them the perfect choice for Silverado owners who demand the best in durability and style. OEM-matched seats with the original colors, materials, and fitment of the original Silverado's interior.
Silverado Seat Covers: Tailored for Excellence
Our Silverado seat covers are a testament to our commitment to excellence. They offer a snug fit that doesn't compromise your seats' functionality. Whether you're on a rugged off-road adventure or cruising on the highway, our seat covers ensure that you experience the utmost comfort and durability.
Seat Covers for Chevy Silverado: A Wise Investment
Investing in seat covers for your Chevy Silverado is a smart decision. Not only are they an exact match to your original seats, but they also enhance your vehicle's resale value. Think of them as an insurance policy for your interior, safeguarding your investment for years to come.
Chevy Suburban Seat Covers: Luxury Redefined
The Chevy Suburban is synonymous with spaciousness and luxury. Our Chevy Suburban seat covers will bring the luxurious feel back to your ride. Crafted from high-quality materials, they provide exceptional durability while maintaining your Suburban's elegant interior.
Why Choose The Seat Shop for Your Chevy Seat Covers?
Expertise: We specialize in seat covers and have in-depth knowledge of Chevy vehicles, ensuring a perfect fit for your model.

Quality: Our seat covers are made from premium materials, offering durability, comfort, and style.

Variety: Our seat covers are made to match the fit and color of your original interior.

Easy Installation: Our seat covers are designed for hassle-free DIY installation, allowing you to enjoy the benefits without any complications.
Elevate Your Chevy with The Seat Shop
Your Chevy deserves the best, and The Seat Shop is here to deliver. Whether you're looking for durability that can endure daily use, enhance your interior's aesthetics, or both, our Chevy seat covers are the answer. Experience the difference of premium seat covers from The Seat Shop today. Your Chevy will thank you for it, and you'll enjoy a more comfortable and stylish ride every time you hit the road. Explore our range of Chevy seat covers and take the first step toward transforming your Chevy's interior.
Like your truck, we don't take anything for granted. Our replacements for Chevy truck seat covers are made from originally sourced materials and designed to match the interior seating you know and love. Our OEM replacement seat covers for Chevy trucks are manufactured right here in the USA for one of America's leading truck brands.

Our Products feature:

- Premium automotive materials sourced from original suppliers

- Seat cooling & heating functionality compatibility

- Construction/Design that matches OEM fitment

- Airbag compatible, tested & certified for deployment
Order replacements for Chevy seat covers today!
shop now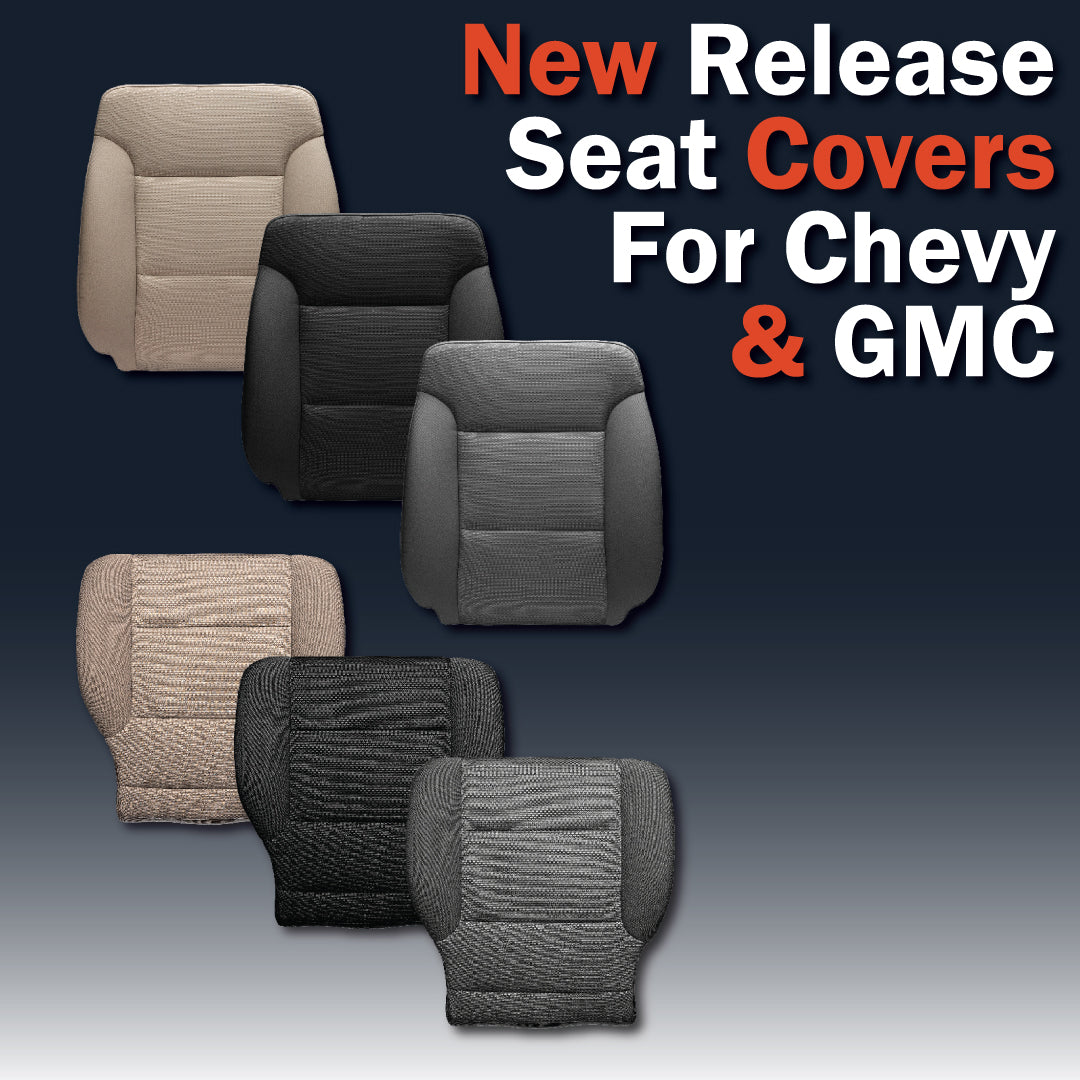 Latest Release
Cloth seat cover replacements that fit select Chevy models (2014-2018) Silverado, Suburban, and Tahoe! Start replacing your old torn up interior on your favorite SUV or truck today!
Available Model Replacements for Chevy Seat Covers
For Chevy trucks, Express vans and SUVs, we offer the highest quality replacement seat covers available on the market today. As we continue to grow our product options for original matched Chevy
replacement parts, our production team will work diligently to produce the best replacement Chevy seat covers around.
Silverado

1995-2019

1500, 2500, 3500

LS / LT / LTZ

Work Truck

Express Van

1996-2021

1500, 2500, 3500

Tahoe

1995-2018

LS / LT / LTZ

Limited (old Body Style)

Base / WT

Z71 (Old Body Style)

Premier

Suburban

1995-2018

LS / LT / LTZ

Base / WT

Premier

Colorado

2004-2010

LS / LT

Work Truck
Frequently Asked Questions About Chevy Truck Seat Covers
From our meticulous design and production team to our customer support staff, we want you to have the best experience possible. When you replace your Chevy factory seat covers with our products, you know that you are getting the best OEM-matched seat cover replacements available today. Here are some frequently asked questions we receive regarding our matched fitment Chevy seat covers.
Can I Get Leather Replacements for My Old Cloth Seats?
Most likely, yes. This will depend on how old your vehicle is. Older models glue the seat cover to the foam cushion, making replacements very difficult. In recent years, seat styles have become more uniform, making most models with cloth and leather cover options interchangeable when dealing with replacement Chevy OEM seat covers. Contact Us via chat or email before ordering any replacements.
Where Are Your Replacements for Chevy Seat Covers Manufactured?
All of our Chevy truck seat covers are made right here in the United States. Our production facilities are located in Texas, and we ship free within the lower 48 states. We also ship to Canada, Alaska, and Hawaii where shipping costs do apply.
How Long Will the Replacement Seat Cover Last?
All of our replacement Chevy seat covers use ½" machine-sewn foam backing on the seat surface and ¼" flame-laminated foam backing on the side skirting, creating more structure and support for your seat cover. Each product conforms to the OEM design specs and is constructed with the highest attention to detail. With proper care, our seat covers will last just as long as your original seat cover, if not longer. However, you will need to consider the structure of your foam cushion; if it is in bad condition, you will need to try and replace or repair it. Using a new seat cover with a worn-out foam cushion can cause premature wear on the seat cover if it is not properly supported.
Resources for Chevy Truck Seat Covers
Learn more about Chevy seat covers by tapping into the different resources we have available at your disposal. We offer easy DIY install videos for your Chevy truck seat covers or locate an installer in your area using our Nationwide Installer network.
Installation Videos
If you would like to try the installation yourself, we have various DIY seat cover installation videos covering several of our product lines. We also produce care and maintenance videos to help keep your new Chevy seat covers looking and performing their best.
Install Videos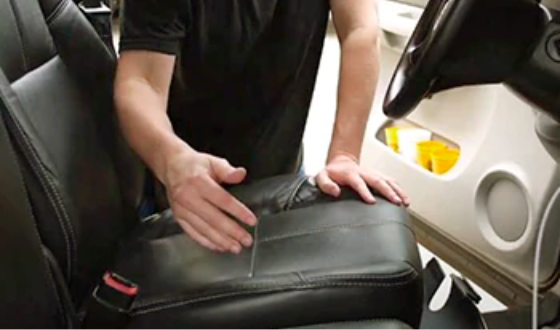 Install Locater
Our Nationwide Installer network of upholstery shops means you can find a professional to install your replacement OEM Chevy seat covers. These qualified automotive upholstery professionals have extensive experience working with our products and can help you install your Chevy truck seat covers quickly and professionally.
Installer network
Learn More About Replacing Chevy Seat Covers - Articles